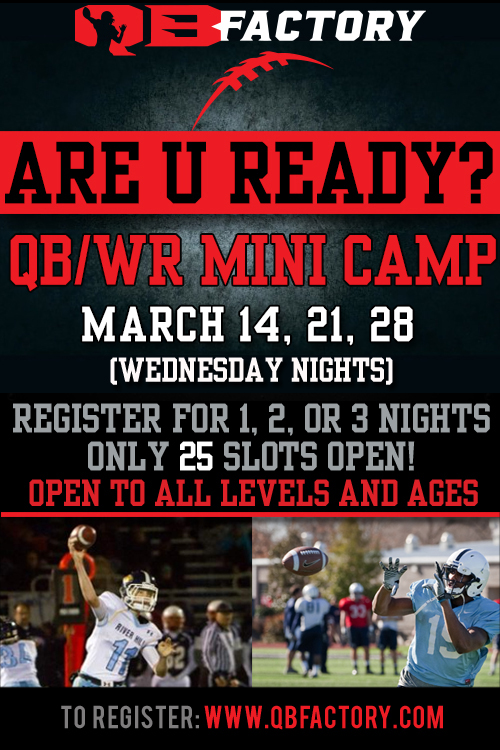 ARE U READY?
Now your chance to take the next step in becoming all you can be!
Join us for QB Factory's March QB/WR Mini Camps.
When: 8:30 – 9:30 PM, March 14, 21 and 28 (Wednesday Nights)
Where: Annapolis Area Christian School, 109 Burns Crossing Rd, Severn, MD 21144
QB Factory has been proven to be highly successful in developing Quarterbacks and Wide Receivers since 1999. This is a great opportunity for players that want to develop their skills to receive High School and College Level Instruction. We will demonstrate how to process and execute with the confidence needed in today's game.
These camps are for serious players only!
You can choose the number of sessions you wish to attend: 1, 2 or all 3. The more you sign up for, the more you save!
We work under a "first come, first serve" basis and spaces are very limited. REGISTER NOW and complete the online form ASAP to reserve your spot!
Open to all levels and ages.
Please be sure to carefully read the waiver/release form for this program. If you have any questions or concerns, please contact us at info@qbfactory.com before making a payment online. ALL PAYMENTS ARE FINAL. There will be no refunds given.
Register